Seismic Analysis and QC, Simplified
INTViewer is a desktop application that allows you to view your seismic data, check for errors, confirm geospatial integrity, perform light processing, and analyze your dataset—quickly and on the go.

Be More Productive with Your Geoscience
Automate Your Steps
Working with large datasets from different vendors can be a slow and repetitive process. With INTViewer, built-in Python scripting helps you automate your workflows, normalization, conversions, processing, and analysis to increase your productivity and reduce errors. Save and execute your script directly from the application. And our online and in-app documentation provides excellent step-by-step guidance.
Start your free trial »
Tailor Your User Experience
INTViewer's complete flexibility as a development platform means you can add your custom algorithm, create custom workflows, connect to external databases like Landmark DecisionSpace, and develop third-party standalone commercial applications, all while keeping your proprietary science completely confidential. Community-developed, commercial, and INT-developed plugins add functionality.
Start your free trial »
Present to Anyone, Anywhere
Presenting data to clients and colleagues can be challenging, but it is critical to making informed decisions. INTViewer provides the portability and efficiency necessary to present and review data from anywhere. With INT slideshow and lattice decimation plugins, you can quickly create portable datasets for presentations on your desktop or laptop. Session files remember the exact layout of your INTViewer virtual desktop, and built-in decimation and subsetting capabilities enable portable datasets. Take screenshots, export your views, playback real-time acquisition measurements, or record your steps as you navigate your data.
Start your free trial »
INTViewer Architecture
INTViewer's architecture offers more than 60 plugins, or you can build your own to create a truly custom solution. Some of the current key plug-ins (2D/3D) include: Well, Seismic, Reservoir, Fault, GUS, PointSet, GridSurface, GOCAD, Normalization, Cross-Plot, Trace Display, Grid Surface, Well Histogram, Velocity Measurement, Horizon Picking, Horizon Calculator, Fault Picking, and many more.

Go Beyond Your Local Data
Cloud-Ready with INTGeoServer
INTGeoServer is a geoscience data server that distributes seismic, well data, and more through the web with no need to set up file sharing. Included with each license, hosting with INTGeoServer makes your INTViewer data accessible from anywhere in your network. With access optimized for remote display, your geoscience becomes instantly ubiquitous: It can be accessed either from INTViewer or its browser-based cousins IVAAP and HTML5Viewer.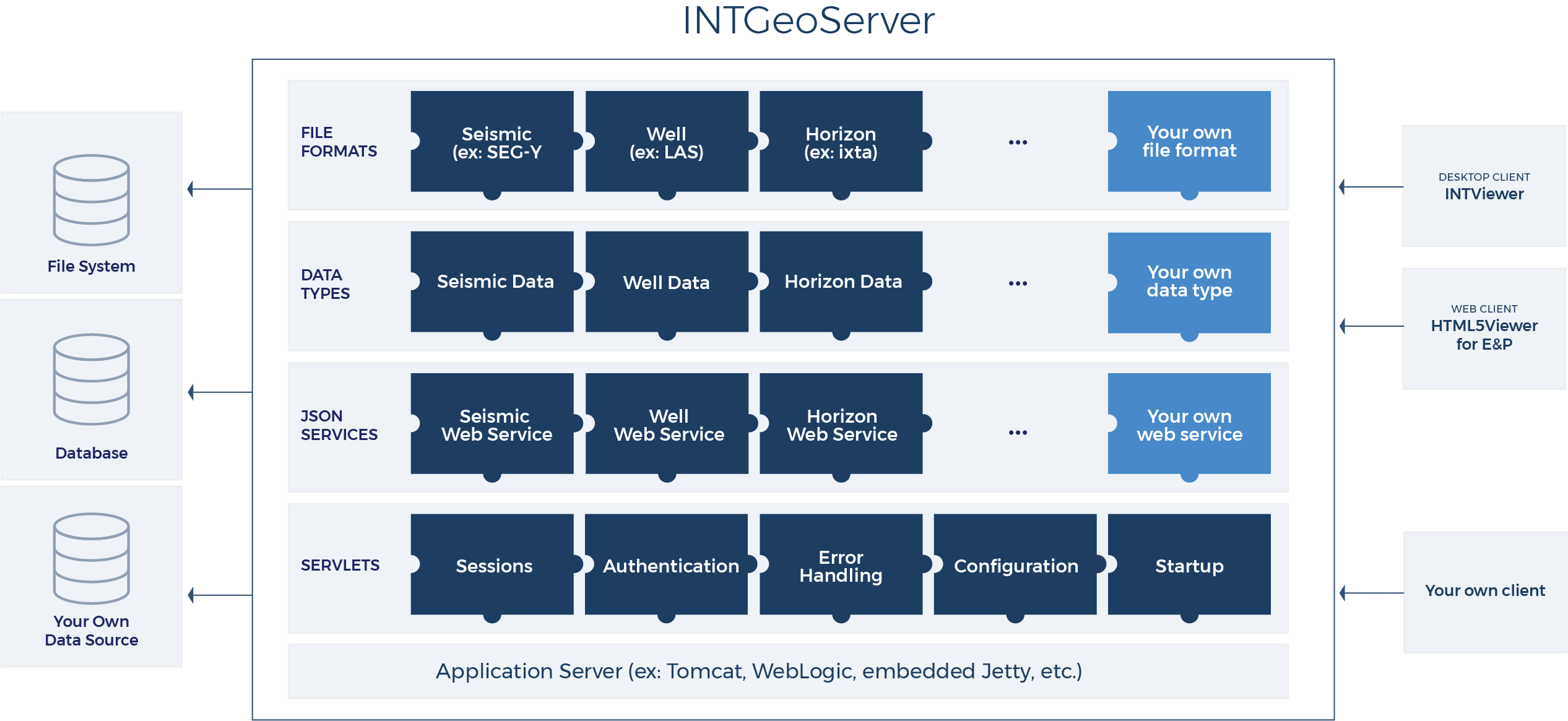 Partners Who Built Geoscience Solutions with INTViewer
Our partners have considerable experience developing geoscience algorithms, workflows, and technical tools. By building on our software and expertise, using INTViewer not just as a plugin, but as a complete white-label solution, these companies were able to rapidly deploy and commercialize their custom geoscience application and significantly reduce their time to market. Here are just a few examples:
Quantitative Reservoir Interpretation Package
Rock Physics Technology (RPT) wanted to commercialize the quantitative interpretation algorithm they developed in-house, so they decided to package it with additional software. INT integrated RPT's rock physics-driven workflows that allow the whole geo team to perform inversion and reservoir characterization on seismic data and the interpretation algorithm with INTViewer's customizable platform to create both a plugin for existing customers and a complete, standalone software solution.
QC Tool for SEG-D Data
To build their custom SegdToolbox, Sercel, a leading player in the seismic acquisition industry for more than 40 years, needed a software platform that could support long-term growth and handle millions of data points with ease. INTViewer's built-in ability to visualize seismic traces and extensibility proved a perfect fit.
Seismic Inversion
Beicip-Franlab, a pioneer in inversion software and characterization methods, wanted to upgrade their native application. The INTViewer platform already offers built-in visualization components for seismic and well data, great data access, and a streamlined GUI. Beicip-Franlab extended the INTViewer platform by adding their own visualizations specific to seismic inversion, saving approximately nine man-years of development time.
Seismic Migration Workflow Software
Tsunami Development specializes in building seismic migration software and imaging tools designed to take advantage of low-cost Linux clusters. But even the best migration solutions are dependent upon good velocity models. Adding Tsunami's velocity picking algorithm to INTViewer's built-in seismic visualization allows users to create, modify, and QC their models in a single integrated tool. INTViewer gave Tsunami the technical foundation so they can focus on their science rather than the visualization.
Partner with INT to Build Your Custom Geoscience Solution
Technical Specs Overview
Main File Formats:
SEG-Y
SU
SEP
SEGD
SEG2
LAS
DLIS
ProMAX
JavaSeis
GOCAD
Main Visualization Capabilities:
Horizon
Fault
GIS
Well
3D Mesh Surfaces
Microseismic
Reservoir