Integrate the Most Versatile Viewer with Your Cloud-Enabled Applications for E&P
IVAAP™ is an HTML5 visualization framework that integrates seamlessly with your upstream E&P solutions. IVAAP leverages microservices technology, a lightweight, component-based architecture that allows you to extend the system, augment functionality, and integrate with your own services and application stack. And our early investment in HTML5 means that you get the latest technology built right in.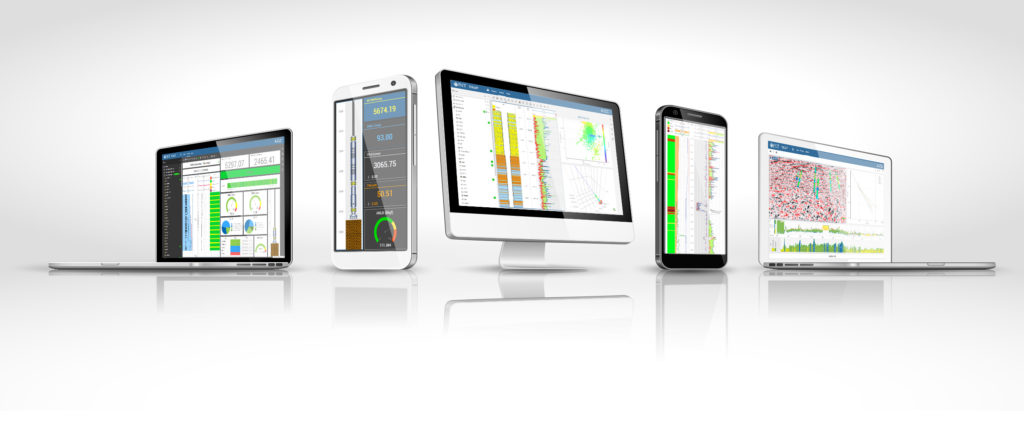 Build Your Cloud Application with Industry-Standard E&P Visualization Technology
Built using GeoToolkit, the most widely used technology for data visualization, IVAAP offers a powerful HTML5 framework to access and visualize your data—domain, G&G, drilling, production, WellLog, 3D, schematics, seismic, and more. Easily plug in your domain KPIs, algorithms, and workflows—hosted locally or in the cloud—for real-time analytics in one easy-to-use dashboard.

"Hands down, IVAAP is the fastest way to build a cloud- and mobile-enabled data visualization solution for O&G. We can generate screens, analyze our data, and share with our customers, all without downloading an app."

— Product Manager, Geological Services
Multiple Data Sources in a Single View on the Fly
Making operational and business decisions requires key stakeholders to analyze complex data from many sources. IVAAP was designed to support this requirement by aggregating and streaming data for comprehensive real-time analysis. And with more teams working remotely, seamless connectivity is an operational necessity. Cloud-enabled and network-secure, IVAAP allows teams to collaborate remotely from nearly any location.
Visualize Your E&P Workflows and Analytics with IVAAP
A few examples of E&P workflows that your developers can build with the IVAAP framework:

Drilling Monitoring & Analytics
Monitor drilling by connecting to Real-Time data sources. Users can easily build dashboards to visualize analytics and rig activity (Gauges, Log Display, Line Charts, Cross Plots, Pie Charts).
Combine Well Log data with directional information for Geosteering.
---
Log Analysis Visualization
Power visualization and analysis with many out-of-the-box features: Log displays, Well Section, Lithology editing, Curve filtering, Formation tops, Well correlation, and much more.
---
Well Performance & Benchmarking
Aggregate data from multiple sources simultaneously in one view (Real-Time WITSML, databases, seismic).
Allow great user experience, with IVAAP's interactive dashboard builder and domain-loaded features such as Match Curve engine and KPI dashboard (Productivity, Downtime, Comparison).
---
Connect to Production Database to monitor and visualize various elements: Schematics display, Gauges, Charting and Alarms. Users can also display and track KPIs.
---
Mud logging display with Real-Time Data streaming from WITSML Server: View logs, lithology and annotations.
IVAAP Key Features & Architecture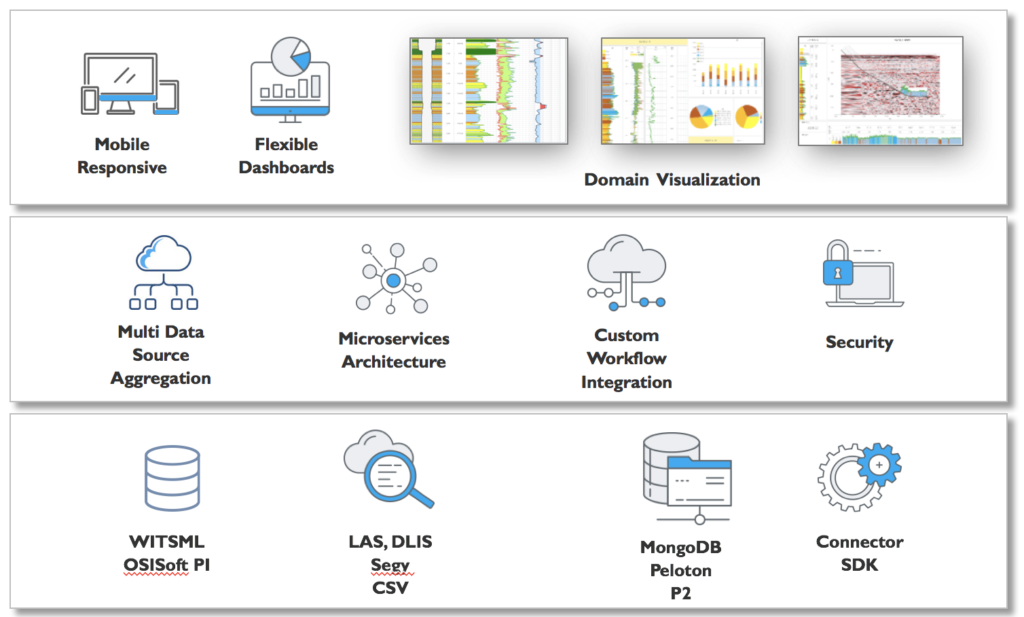 Your Own IP, Science, & Workflow
Integrate your proprietary workflows, data, and analytics using IVAAP's powerful microservices and SDK to create a complete digital application that can be deployed on a private server or in the cloud.


Microservices Architecture
Lightweight, modular microservices back end is secure, cloud-friendly, and completely scalable for customers to add their own features and workflow.


Data Integration & Geoscience Data Services
IVAAP aggregates multiple data sources simultaneously, including database and real-time WITSML streaming. Our secure INTGeoServer distributes seismic, well data, and more over the web, making your data, including SEG-Y, LAS, and DLIS, accessible from anywhere in your network.
Manage users, projects, and data connectors quickly and easily with IVAAP's robust admin interface. IVAAP includes various security features, including the ability to monitor usage.


Domain Visualization in HTML5
A browser-based HTML5 client leverages all proven GeoToolkit libraries, with drag-and-drop functionality to create custom dashboards so users can see and analyze their data at a glance.

Deployment, Simplified
Deployable in your hosting environment or on your private cloud, IVAAP enables DevOps and Agile Dev with a simple approach to deployment using a Docker Engine, which means you can be operational in a fraction of the time.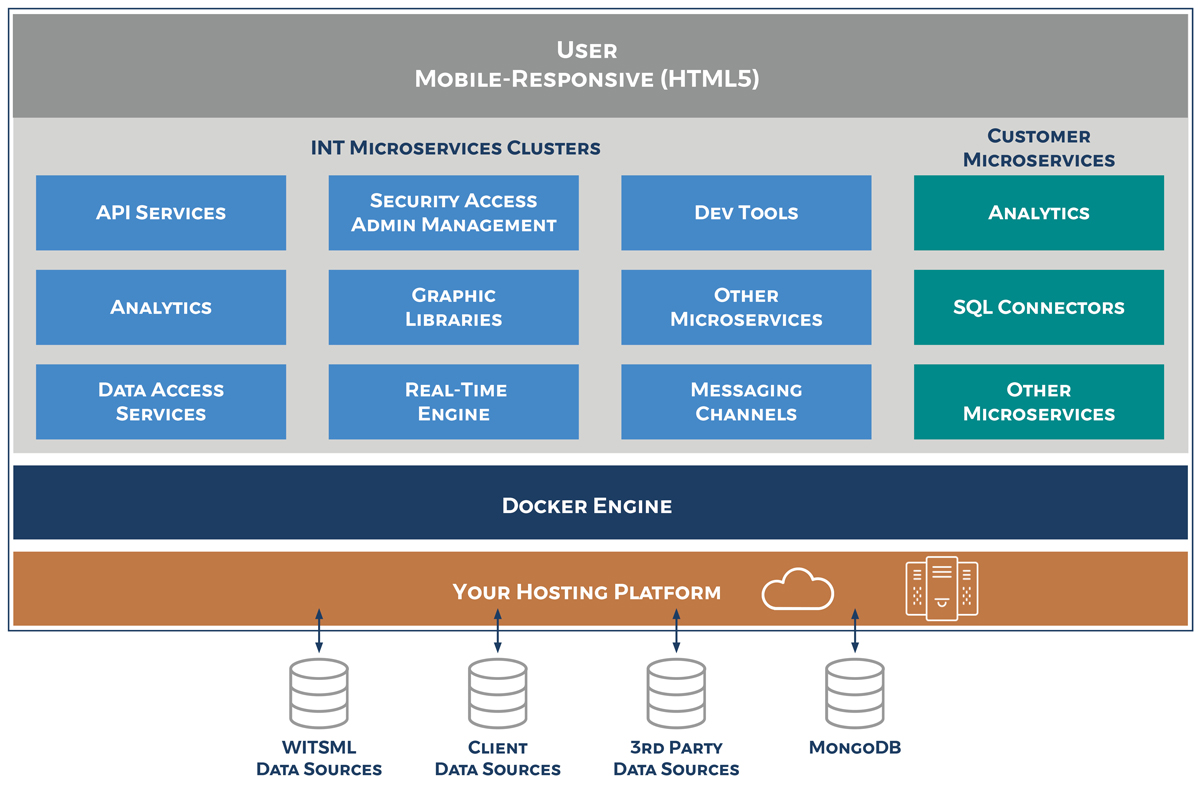 Technical Specs Overview
Data Types:
Visualization Widgets:
WITSML
DLIS
LAS
SQL Data
Schematic Data
WellLog
Time series
Histogram
Cross-plot
Pie chart
Table
Value
Information
Statistics
BHA
2D seismic
3D view
HTML
Numerical gauge
Circular gauge
Semi-circular gauge
Quarter gauge
Vertical/horizontal gauge
Time interval gauge
---
Ready to get started?