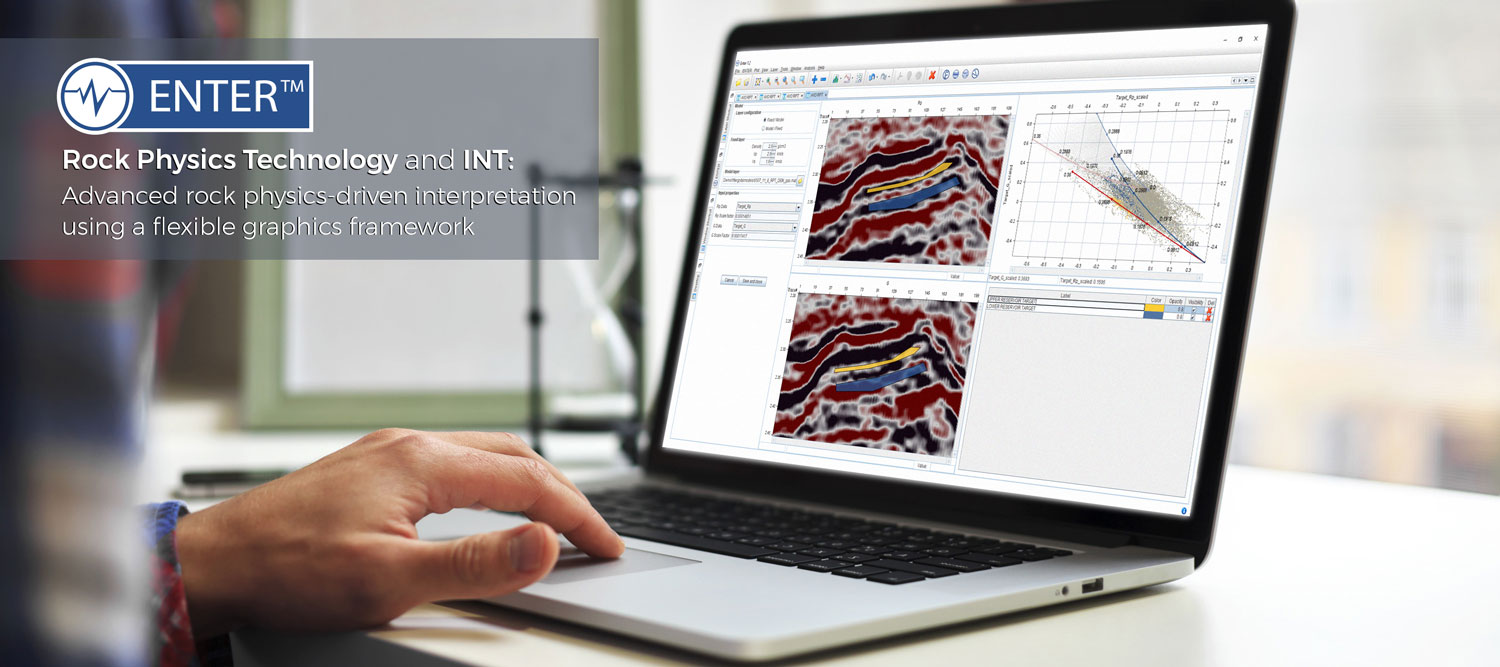 Advanced rock physics-driven interpretation using a flexible graphics framework
"When developing ENTER, we wanted to focus on our innovative technology, but at the same time, we needed the functionality for loading, displaying, and interacting with seismic and well log data. We have a great working relationship with INT, so implementing ENTER on the INTViewer platform made perfect sense. The two technologies fit together nicely and create an excellent user experience."
Dr. Erling Hugo Jensen, CTO, RPT

Overview
Rock Physics Technology AS (RPT) is a digital oilfield service company based in Norway. RPT developed ENTER™, an interpretation software that uses advanced rock physics-driven interpretation in a flexible graphics framework to predict porosity, lithology and fluid saturation from seismic data. ENTER helps E&P companies de-risk prospects and analyze uncertainties in resource estimation during seismic interpretation. The software is based on the acclaimed Inverse Rock Physics Modelling-method (IRPM) developed by Prof. Tor Arne Johansen, University of Bergen, and Dr. Erling Hugo Jensen, CTO, RPT.

Challenge
After spending years of research developing the IRPM concept and maturing it through project applications and theses at the University of Bergen, it became clear that the technology had great commercial potential as a software product for the global oil and gas industry.
However, the challenge was how to take it to market and in what format. Spending the time and resources to develop a completely new platform for interpretation and visualization from scratch made little sense and would take too much time to build and deploy. At the same time, partnering with a current or potential future competitor would not be good for the success of the company.

INT Solution
Power, Flexibility, and a Customizable UX Meet Cutting-Edge Geoscience
Rock Physics Technology chose to work with Interactive Network Technologies (INT) to incorporate their innovative science into INTViewer's robust framework. As a platform, INTViewer is powerful, flexible, and scalable. INTViewer features a fully customizable UX, and it can add, enable, and disable features easily, leaving only the relevant functionality accessible to the end user.
The partnership between INT and RPT led to the development of ENTER, a quantitative analysis and interpretation software package. ENTER uses the INTViewer framework to link to the RPT library, accessing the IRPM and surrounding technologies. ENTER makes rock physics driven inversion accessible to geoscientists all over the world, allowing them to make powerful predictions of reservoir parameters from seismic data using simple and intuitive workflows.
ENTER enables not only the rock physics expert, but also the sedimentologists, petrophysicists, and the rest of the interpretation team to perform quantitative interpretation using a library of advanced rock physics models in one easy-to-use interface. For more information about ENTER, visit www.rockphysicstechnology.com.