Sercel chooses INT J/GeoToolkit to develop eSQCPro, the leading QC tool for seismic data acquisition.
"For us, the best market research is working as a team with customers and being open to feedback. In turn, we chose to work with INT for the very same reason. They listen to our concerns and provide us with innovative technology solutions."

—Jacques Hamon, Sercel
The Challenge
Sercel is a leading player in the field of seismic acquisition. After the initial success of SQCPro, developed by Sercel using the INT Geoscience widget library, Sercel contacted INT for help in developing their next generation seismic QC application, eSQCPro. Some key features for this new application were:
Real-time web access to QC data collected by the seismic crew
Secured access (firewall, passwords)
Same GUI for web-enabled access and for observer in the recording truck.
Customizable display
Support for low bandwidth data connections
Main requirements for the graphical views included:
A huge amount of data can be involved (millions of points for 1 graphic)
Data views need to be refreshed in real-time (about every 5 seconds)
Multiple graphical representations can be displayed at the same time (up to 3 seismic graphics + 20 histograms + 2 colored maps)
Graphical components could be reused in other applications in the future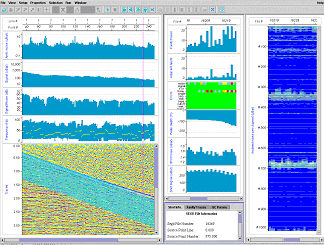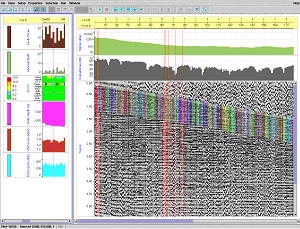 The INT Solution
INT was retained by Sercel to provide assistance with the development of the data views and graphical user interface. To support remote access through the web, a client/server architecture was developed and an XML/HTTP messaging solution was selected to communicate between the server and the clients.
Sercel R&D was in charge of the server. They developed a seismic data compression algorithm, using a wavelet transform, to improve real-time data transfer speed. Java was selected for the client software to provide a fully cross-platform solution and INT was asked to develop a variety of graphical views using J/GeoToolkit component libraries.
INT's approach was to develop every graphic component involved in the application as a bean that could be reused within any other application developed by Sercel in the future. The client architecture helped promote reusability while offering a great level of customization. INT also provided input throughout the development process to improve the application look, feel, and usability.
The Results
Collaboration with INT enabled the Sercel eSQCPro team to deliver a complex application, based on a completely new client-server architecture, in a remarkably short period of time. INT resources and software components were critical to the success of the project. At the same time, this project provided INT with an opportunity to enhance J/GeoToolkit in terms of performance and new features to fully satisfy needs of eSQCPro.
The timely release of eSQCPro to their customers was a major milestone in the deployment of Sercel's software platform e-Generation.
About Sercel
Sercel has been a leading player in the seismic acquisition industry for more than 40 years, supplying the geophysical industry with a full range of high-tech integrated equipment to meet the requirements of current oil exploration projects.