Discussing data management challenges with major oil companies, national oil companies (NOCs), and oil services companies over the last few months, we found that it is still quite difficult to find published metrics about their KPIs. During a recent conversation with an operator, for example, he shared that finding the right data for analysis could take anywhere from one to SEVEN weeks.
Whether afraid releasing this data might expose inefficiencies or simply that the data is proprietary, what is interesting is that this problem persists—multiple people doing the same checks, companies can't find their data, and what they can find, they don't trust. For most geologists and geoscientists, data validation—validating, correcting, and verifying data—takes between 30 and 90 percent of their time before they can even begin to use the data. This challenge has become a major blocker as they transition from human analysis to Artificial Intelligence (AI) and Machine Learning (ML) to automate tasks and decisions.
The problems lie in how application systems have been built over time: in silos. To quote Teradata's Jane McConnell in her recent blog post on OSDU, "Keeping data in separate systems with separate indexes, separate master data management issues, and often separate physical hardware, only means extra work, master data management problems, and unnecessary hassle when we try to bring the data together so we can analyze it as a whole."
So, how do we fix it? OSDU data standardization with IVAAP data visualization is one approach.
What Is OSDU?
The Open Subsurface Data Universe™ (OSDU) Forum is an Industry Forum formed to establish an open subsurface Reference Architecture. OSDU is created around a simple idea: can you find, use, and trust your data? 
The objective is to move from a traditional model based on multiple types of data into a single integrated data model. The digital transformation approaches data as an asset that can be used throughout various stages of the workflow and applications, decoupled of the native workflow and application. 

The OSDU mission is to establish an open subsurface Reference Architecture as follows:
A cloud-native data platform reference architecture, with usable implementations for Microsoft Azure, Amazon AWS, and Google GCP
Application Standards (APIs)

to ensure that all applications (microservices), developed by various parties, can run on any OSDU data platform

Leverage Industry Data Standards for frictionless integration and data access
OSDU Value Proposition: Access and Acceleration
To increase data accessibility, data can no longer be kept siloed. Companies must now accelerate their digital transformation by taking advantage of the growing OSDU marketplace and the rapid adoption of new solutions using OSDU APIs.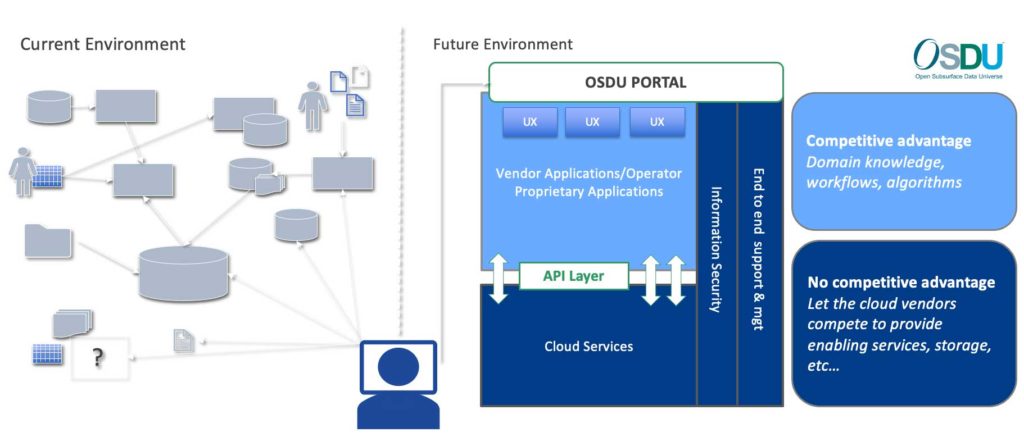 The OSDU data platform architecture helps separate data from its native application—from the workflow and from the storage infrastructure. It is indexed, discoverable, and consumable. This evolution is critical as we automate analysis with AI, ML, etc. Digitalization requires consistency and confidence in all data and standards for data and metadata to take out the guesswork.
Improve Findability, Collaboration, and Data Exchange
To improve not only data management workflows, but also to increase collaboration across teams, the smart approach is to combine a common data standard (OSDU) and leverage enterprise viewer technology (IVAAP).
Data Standardization: Findability and Discovery
A common data standard improves findability, using powerful search engines to reduce time to find the right data from weeks to days. When possible, it leverages data lakes to access all data from a single repository or a hybrid model to aggregate data in place. Removing the bottleneck of "person dependent" models means immediate access and data discovery with security at the object level.
Data Visualization: Collaboration and Data Exchange
The ability to view multiple sources of data in a single dashboard is a critical piece of the new data management workflow. It makes data exchange easier, enables process optimization and better QC, and translates to better visibility for KPIs. Enabling data selection directly from the search eliminates the need to move data, and aggregating data in a single, shared dashboard means faster collaboration and better decision-making.
Empower Better Data Management
Data management can benefit from a single point of access of all subsurface data, simplifying data exchange, sharing, and consumption. For data managers, OSDU can enable new technology solutions that aggregate data, simplify search, and improve discoverability. Paired with the right subsurface data visualization platform technology, OSDU can pave the way to automate tedious tasks, workflows, and analysis, ultimately providing quicker information to stakeholders for faster decisions.
For more information or for a free demo of IVAAP, visit int.com/products/ivaap/