Maersk Oil selects INT to develop Petrel plugins that help manage petrophysical modeling and seismic inversion, a critical step in geomodeling and property modeling quality check.
The Challenge
Geoscientists at Maersk Oil needed accurate models, and they used a variety of quality check techniques to generate these models with the lowest uncertainty possible. After seismic data has been processed, a geomodel created, and the reservoir grid generated and populated, a well-known quality check populates the reservoir grid using elastic attributes (Vp, Vs, density…) computed from simulated or interpolated rock properties such as porosity, fluid saturation, mineral composition, etc. From these properties, is possible to generate the theoretical seismic response of the reservoir, and to compare that to the actual field response.
Maersk Oil also wanted to standardize and incorporate petrophysical models from different formats (Excel spreadsheets) into the same geomodeling software within Petrel. Because of the high degree of customization required, and INT's expertise in creating geomodeling software, Maersk Oil chose INT to develop a specialized workflow which would integrate the petrophysical population of the grid and the synthetics generation.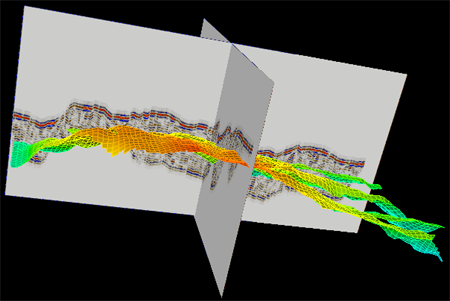 The INT Solution
INT implemented the desired workflow as a custom Petrel plugin. The plugin interface offers Maersk users a wide variety of options:
Grid population of Vp, Vs, AI and density using predefined algorithms, adapted to the rock type (three types of sand, limestone, chalk)
Customization of the predefined algorithms with a high degree of flexibility to adjust constant values or grid-acquired properties (net to gross, porosity, fluid saturations…)
Creation of a free editor, allowing users to create, export, import and apply complex personal algorithms
Generation of synthetic time seismic cubes using Zoeppritz equations (full offset and customizable angle substacks), from the depth grid and the generated Vp, Vs, density.
Use of a reference horizon to fit time and depth on a selected horizon with low uncertainty
Flexible wavelet selection: ASCII import, Petrel project wavelet, or custom well-known customizable wavelets (Ricker, Morlet, Butterworth…)
Optimize results with optional noise addition and filtering, plus three levels of precision (fast computation to very precise computation)
Lots of visual or textual indicators, extensive documentation, and preset parameters to assist the beginning user while still allowing experts to have full control of the algorithms.
The Results
Two versions of the Petrel plugin (for Petrel 2009 and 2010) have been delivered to Maersk Oil as simple executable EXE files. They incorporate a setup program that properly installs the plugin onto the computer, and then configures Petrel properly so that the plugin can be loaded into Petrel.
This plugin is Maersk's first proprietary plugin. Named Mod2Seis (which stands for Model to Seismic,) the plugin is currently used by Maersk Oil to generate synthetic seismic from existing geologic models and determine a +match to the original seismic data. In the case of mis-match, the geologic models are updated, using seismic attribute volumes to constrain the models with the seismic information. This process is done iteratively until a good match between the modeled synthetic and the seismic data is achieved.
About Maersk
Maersk Oil is an international oil and gas company, ranked among the top 30 independent oil and gas producing companies world wide. The company is known for its ability to push technical and operational performance through innovation, and its ability to turn marginal and challenging fields into commercial successes. Learn more at www.maersk.com.