CGG chooses INT's GeoToolkit to develop VectorVista™, a unique workstation dedicated to Multi-Component seismic data.
The Challenge
As an industry leader in the development of Multi-Component technology, CGG decided to launch the development of an interactive workstation specially designed to take full advantage of this challenging type of data: allowing geophysicists to fully analyse and interpret the additional information provided by converted waves.

The INT Solution
Rapid development was a key priority for CGG processing teams who urgently required this tool. INT provided two component libraries, J/GeoToolkit and J/View3DPro, which proved to be very effective at handling CGG's complex display requirements. Already customized for E&P applications, these libraries made it possible for software developers to focus on the strategic functionality of the application: including, among other features, composite display (P waves, PS waves, VSP), real time Stretch and Squeeze, dynamic cross-plots with real-time updates of the 3D viewer, and simultaneous management of 1D, 2D, and 3D data.
In addition to sophisticated display capabilities, the INT toolkits provided a smooth implementation of high-end geophysical algorithms such as high resolution Vp/Vs computation or dual inversion of P and S Impedances.
The Results
Development was achieved within an industry consortium funded by ENI, NorskHydro, and Pemex. The overall user-friendliness of the new application contributed to a fast and smooth deployment within various CGG processing centres, and several major Oil Companies have licensed the software.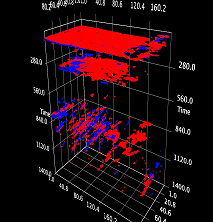 About CGG
Compagnie Générale de Géophysique (CGG) is a leading supplier of geophysical products and services to the worldwide oil and gas industry. CGG has been a leader in the use of shear wave seismic data for more than 30 years.