Beicip-Franlab optimized its powerful seismic inversion software on the INTViewer platform, utilizing its Java-based plugin API to completely redesign the InterWell UI.
The Challenge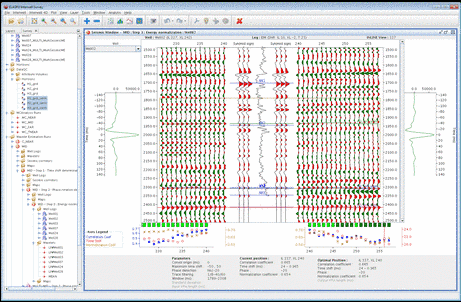 Beicip-Franlab, an IFP Group company, has been a pioneer in the development of inversion software and characterization methods since the mid 80s with its InterWell application. However, over the years, InterWell began to suffer from an aging user interface, becoming challenging for end users, difficult to maintain for Beicip-Franlab, and inappropriate for incorporating new advanced functionalities and algorithms.
To improve InterWell's capabilities and increase productivity for Beicip-Franlab's customers, they wanted to optimize past software developments and offer their customers an integrated modeling technology with advanced inversion algorithms for both post and pre-stack data. In 2010, Beicip-Franlab experts investigated various development platforms to accelerate development of the new iteration of InterWell. The main objective was to find a platform dedicated to seismic data visualization that would optimize development and reduce costs.
The INT Solution
Beicip-Franlab selected INTViewer, an innovative visualization and data analysis platform for exploration scientists. Built on the Oracle® NetBeans Rich Client Platform (RCP), INTViewer provides a powerful plugin-based framework for adding custom utilities and advanced algorithms via an open source API for access and control of menus, data and custom displays. Most of the data types, data views, and QC options required for the InterWell application were already supported, and Beicip-Franlab estimated they would save approximately nine man-years of effort by leveraging INTViewer's data access and GUI components. To further accelerate the project, consultants from INT were hired to focus on the development of the plugins while IFPEN developers were busy upgrading the algorithms and calculation module to run in the new environment.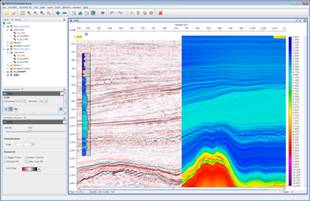 The project began mid-2011 with the aggressive goal of a first release before the end of 2012. The following plugins were planned:
DataManager – survey creation and data import.
Seismic data QC and conditioning – statistics, seismic quality, vertical misalignments correction, horizon management.
Multi well and multi cubes wavelet estimation – deterministic and statistical method for wavelet estimation using a multi-well, multi-trace.
Initial Acoustic/Elastic parameter model creation – calibration – based on a stationary or un-stationary interpolation of well log data according to stratigraphy.
Acoustic/Elastic 4D and Azimutal inversion – based on a unified Bayesian formalism, the algorithm is a multi-channel grid-based inversion with a priori information.
The Results
The project was completed on time, and InterWell 2012 was released by Beicip-Franlab as an integrated suite of plugins based on the INTViewer platform. The new modern user interface and visualizations, combined with a powerful integrated workflow, have significantly increased InterWell user-friendliness and productivity for end users. Additionally, Beicip-Franlab now has a world-class platform that accelerates the development of new modules and functionality for its flagship InterWell software. With the combination of the INTViewer platform and IFP/Beicip-Franlab experts, InterWell is now a complete set of tools for data visualization, seismic analysis, and quality check. InterWell also offers a powerful software for pre-stack seismic data registration and wavelet estimation (hybrid, deterministic, and statistic approach), which are all mandatory steps prior to the Inversion process.
About Beicip-Franlab
Beicip-Franlab is a leading independent Consultant in E&P and a Geoscience Software editor with 50 years of experience. The company is part of the IFP Energies Nouvelles Group. Beicip-Franlab offers a full range of petroleum upstream consulting services and provides its clients with best-in-class advice and software. The company has hands-on expertise in most of the oil and gas provinces and is already serving more than 1,000 clients among the largest National and International Oil companies and Independents. Learn more at Beicip Franlab.