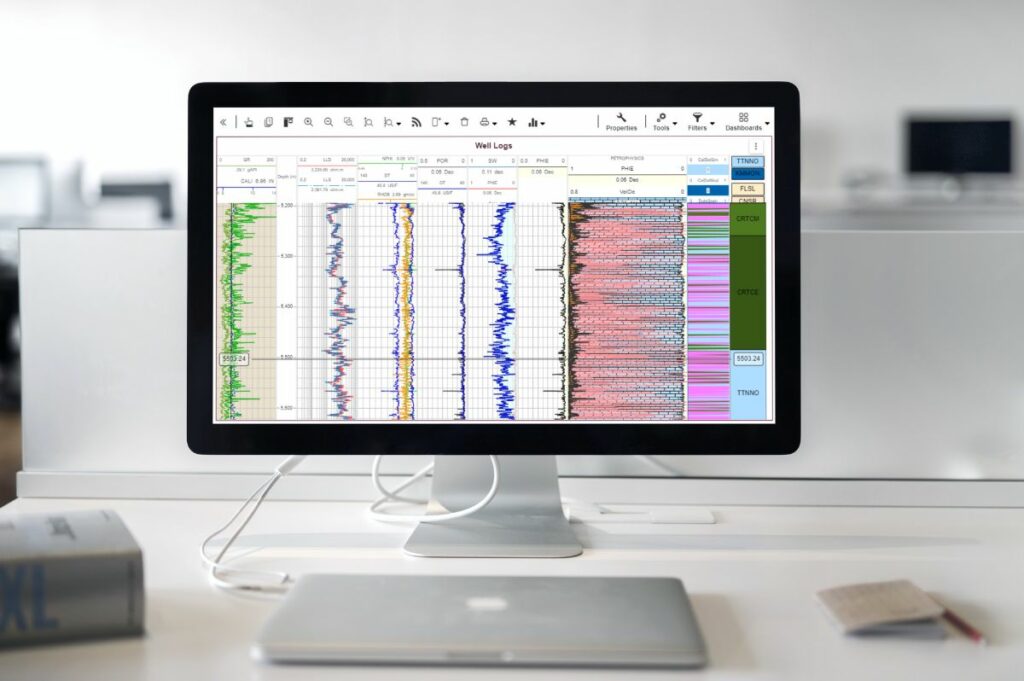 "The key difference between IVAAP and any visualization platform is that it is the only O&G platform that offers specialized graphics, such as powerful schematics, well logs, and correlations, that can also be extended and customized to solve a client's unique needs. We have other tools, but IVAAP is the RIGHT tool."
—César Larrañaga, Geoscience Engineer, AZZAIT

Business Need:
Efficient Data Management
AZZAIT was looking for robust visualization software to provide collection, validation, and visualization of domain data through each step of the workflow for a client in Mexico.
The client was working to develop an automated workflow to detect opportunities, increase productivity, and improve operating conditions based on data and technical business processes. However, their data was spread out across multiple systems.
After the initial interaction with INT, AZZAIT realized that INT provided not only the right platform, but the software was backed by a professional team with remarkable knowledge of the industry. They decided to implement IVAAP as part of their client's workflow, which included:
Visualize the inputs of a workflow
Make decisions to develop an opportunity
Visualize the results of the workflow.
Solution: Centralized Workflow, Robust Visualization
The first and biggest challenge of the partnership was to connect to the PPDM database environment. Once IVAAP was set up to display PPDM data, other functionalities — for example, contour mapping from ASCII files — were added.
Implementing IVAAP facilitated data access and shareability for AZZAIT's client by providing an intuitive platform that is easy to use, even for those without domain knowledge, centralizing access to all of their data in one place, and allowing easy collaboration across teams through shared dashboards and live, embedded links.
The client can now interact with data from multiple wells and provide drilling reports and display base map widgets that are used with area and reservoir data.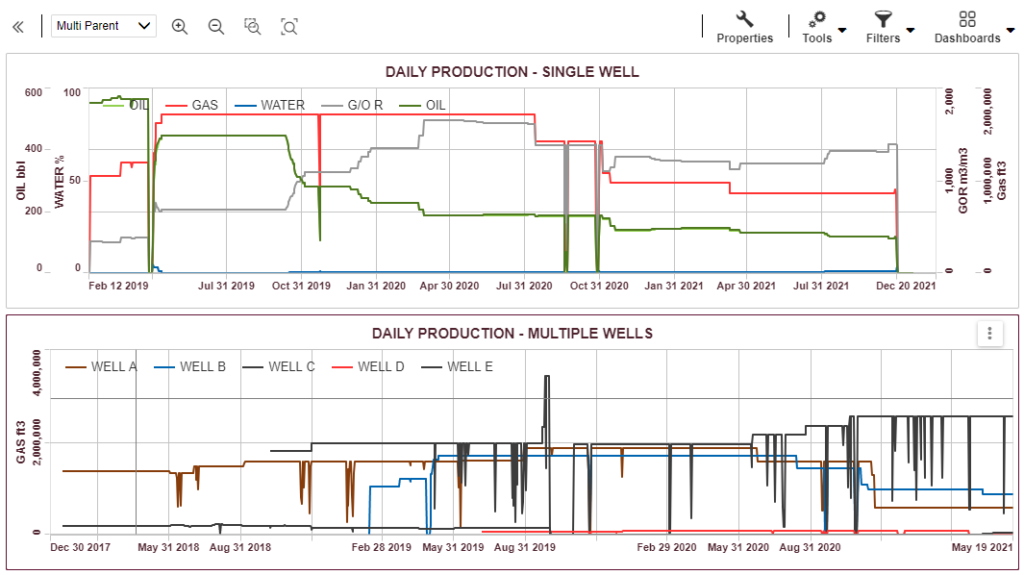 IVAAP integrates well data, including production volumes, and enables multi-well visualization.
Benefits: Streamlined Data Analysis for Better Business Decisions
With IVAAP, AZZAIT's client not only improved their workflow, but it also streamlined task management and data analysis, making it possible for them to invest in other areas rather than spend time managing a massive database across multiple applications.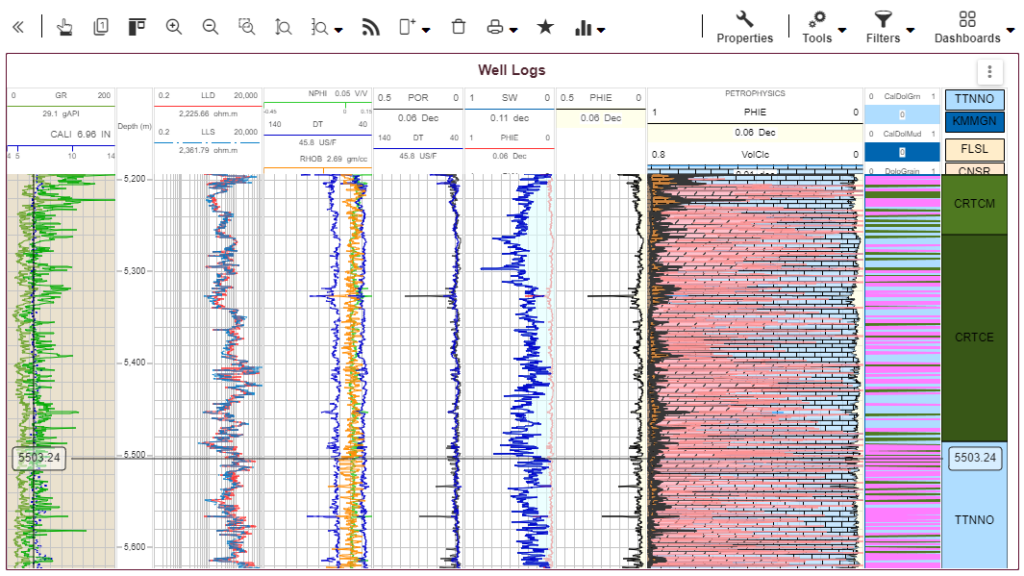 Dashboards with integrated data in one place help with data analysis and decision-making.
Since 2018, IVAAP has helped AZZAIT's client reduce the time to search and download production data from 4 hours to 20 minutes, allowing them to share data quickly and easily with other colleagues with automated dashboards.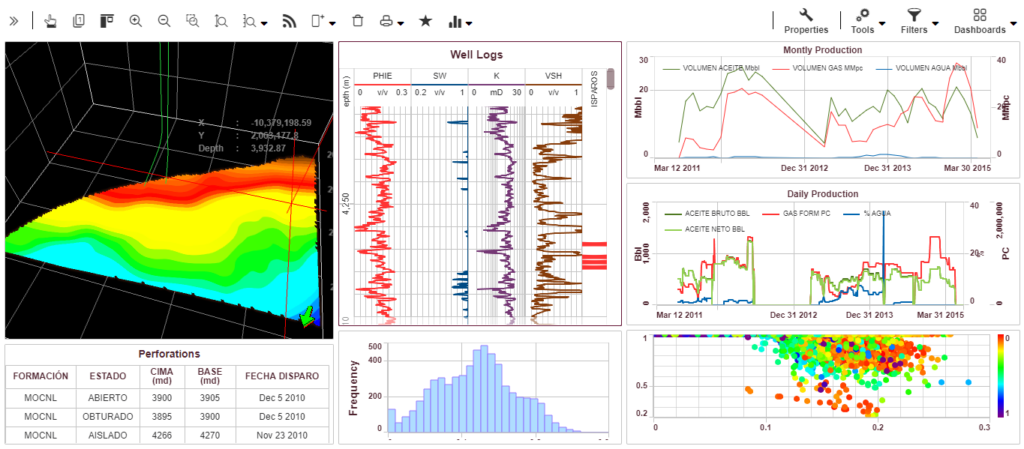 Dashboards with integrated data in one place help with data analysis and decision-making.
Overall, ​​IVAAP allows the user to go beyond simply visualizing input for a well to making appropriate decisions in their specialized workflows that will increase professional productivity, decrease operating costs, and reduce risk.
ABOUT AZZAIT:
Based in Mexico, AZZAIT provides consulting solutions in specialized oil and gas industry services using its ISO 9001 quality certification. Their skilled consultants have extensive experience, both national and international, in every stage of the petroleum value chain, offering technical assistance on business operations such as exploration and production, process optimization, infrastructure, and data management. AZZAIT is a leader in designing and integrating innovative solutions for their customers that are low-cost and sustainable.
ABOUT INT:
Interactive Network Technologies, Inc. (INT), provides Data Visualization software using the latest technologies such as HTML5 and JavaScript to create cloud-enabled and mobile-responsive solutions and platforms for the leading oil & gas and service companies. Our expert visualization solutions offer unparalleled flexibility for both scientific industries and business, and our web-enabled display technologies empower best-in-class business applications for seismic acquisition, geoscience, well intelligence, drilling, production, asset management, and more. Visit www.int.com or email info@int.com to learn more.